4 Tips on How to
Streamline Your Recruitment

Process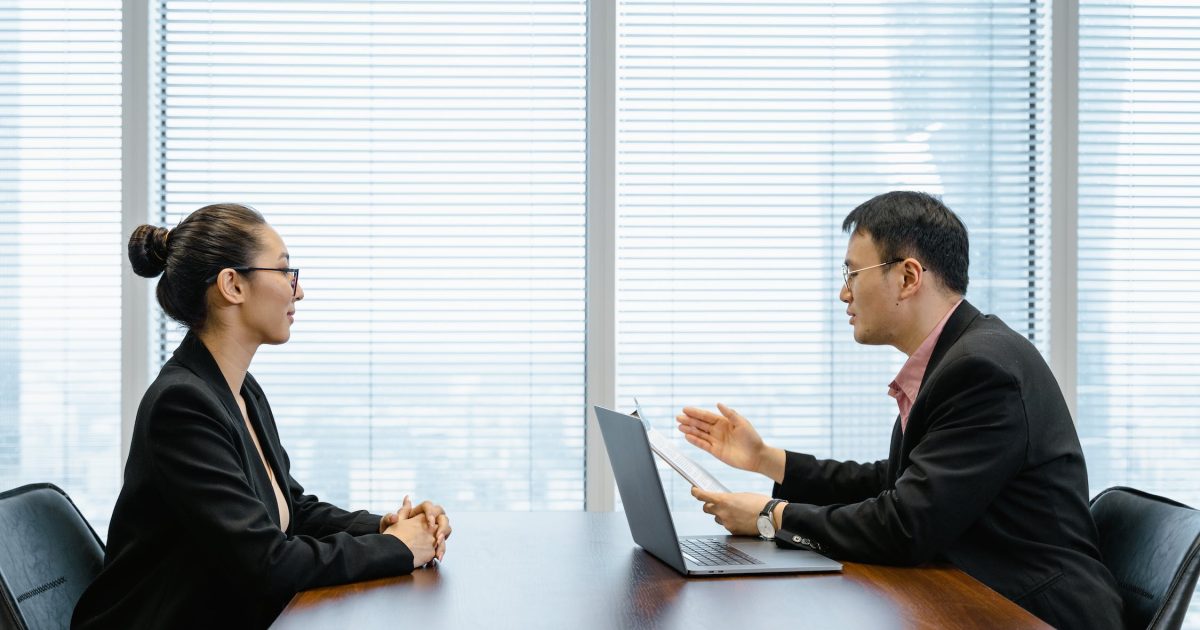 Anyone who's been on the hiring end of a recruitment process will tell you how tedious and time-consuming it can be. Hiring the right employee is a major undertaking, but when done correctly, it's also one of the most rewarding experiences for both parties involved. However, in many cases, the recruitment process can take over a month, and by this time, the perfect candidate may have already found a job.
This process can take even longer if you're doing it manually. Luckily, Happy HR's cloud-based recruitment software can manage everything for you. You can create fully-compliant contracts and organise your employees' documents for easy access online without the hassle of storing any physical paperwork.
The following are some recruitment tips to streamline your recruiting process and make it more effective:
Tip 1.
Get ready!
Write a Detailed Job Description
A company's job description is one of the most important pieces of information you provide prospective employees. This document explains to potential hires what it takes to work for you. If you want to attract the best talent, ensure your description is up-to-date, comprehensive, and well-written.
A clear and concise job description includes the following components:
Job Duties and Responsibilities
Requirements for the Position
Qualifications Needed to Perform the Job
Skills Required to Do the Job
Potential Career Paths Within the Organisation
Benefits Offered
Work Hours
Salary Range
Any Additional Benefits
Location
References
Other Relevant Information
The benefit of a well-written job description is that it helps you narrow down your applicant pool and makes it easier for you to focus your interviews. In addition, writing a detailed role description allows your candidates a chance to highlight the qualities that make them stand out.
Carry Out Pre-Screening Procedures
Pre-screening candidates can save time and money by reducing the number of people you meet face-to-face. But it takes careful planning to ensure that you don't waste time interviewing someone who isn't a good fit for the job. Here are some things to consider when determining how best to use your pre-screening tools.
Decide What Type of Candidate You're Looking For
You might decide that you want to hire someone who already has specific skills or experiences. Or perhaps you're looking for someone who fits into your team well. Whatever your criteria, make sure you know exactly what you're looking for. This will allow you to focus your pre-screening efforts.
For example, asking them to include some instances of past career challenges is a another great way to learn more about your candidate. In this stage, you want to ask questions that will give you insights as to what type of skill set them applicant has.
Basically, choose your questions well so that you can make the most out of the time you have with them.
Tip 2.
Screen Well
I'm Choose the Most Effective Screening Method
There are three main types of pre-screening methods: behavioural, technical, and cultural.
Behavioural pre-screening asks candidates what they would do in certain situations.
Technical pre-screening involves asking candidates to submit samples of their work.
Cultural pre-screening looks at candidates' values, beliefs, attitudes, and personality traits.
Each method has its own strengths and weaknesses; to create a strong shortlist, your pre-screening should ideally cover all aspects of all three of these. To find out which one works best for your needs, think about the qualities you're seeking in a potential employee. Then, choose which screening methods align with your goals. Try not to ask everything that you can think of because this will take up a lot of time when you have to phone multiple candidates. Instead, think about which questions or methods will give you the insight you're most interested in.
Plan the perfect interview
Interviewing is one of those things that most people dread. But it doesn't have to be a stressful experience. Planning ahead, being prepared and having the right questions can make all the difference between an enjoyable interview and a painful experience.
Here are some recruitment tips to help make the process easier and more effective:
Prepare Thoroughly
Make sure you know what you want to ask, how long each interview will take, and exactly what information you'll need to gather during the interview. You can get some ideas of what to ask by looking online and adjusting those questions to your needs. If you don't prepare, you won't be able to get a clear direction on which candidate to choose. You'll also find yourself scrambling to remember what you wanted to ask.
Be Organised
Keep track of everything you need to do during the interview. This includes having copies of your questions and what insights you aim to get out of them. Also, leave some room to make notes about the candidate.
Tip 3.
Candidate Care
Conduct Multiple Interviews
Don't limit yourself to only handful of candidates. You can always ask for another round of interviews. Take note of how the different candidates answer the same questions. You might learn something about their mindset and how they approach problem-solving.
Evaluate All Candidates Equally
Give all your candidates the same amount of attention and consideration. Do your best to make a comfortable environment of nervous candidates. Confidence is a good trait, but it doesn't necessarily mean that the most confident candidate is the best fit for the job.
Follow Up Promptly
After every interview, send out an email thanking the candidate for coming in and letting him/her know when you plan to schedule the next step. Talented candidates are in high demand, so letting them know how long the process will take encourages them to keep their options open.
Document Everything
Take detailed notes throughout the interview process. Include anything you learned during the interview, including feedback on the candidate's strengths and weaknesses. Give unsuccessful candidates feedback and keep a record of the ones you think you might want to hire if things don't work out with your first choice.
Outsource The Background Check
This allows you to focus on the job requirements while someone else handles the tedious task of gathering the necessary information. If outsourcing is not an option, delegate it to someone else on the team so you can focus on planning the interview.
Tip 4.
Use Tech
Use a Recruitment Software
Between compliance documentation, communication between teams, and the myriad of other processes involved in hiring; it can take time to keep track of what's been done and what needs to happen next.
With so much work being done across multiple channels, you need a single place where everything can be found.
Happy HR's recruitment software does just that – it collects all the data needed to create a complete profile of your new hire and organises it into a simple dashboard that everyone can access. Our software also allows you to track the performance of employees so that every member of the team knows exactly what steps must be taken moving forward.
Happy HR is an all-rounder HR management software that includes onboarding and offboarding tools as part of your package. If you're looking to join over 1500+ Aussie businesses and streamline your recruitment process, then book a demo with us today!