For those looking for an end-to-end platform that allows you to roster your staff efficiently, Happy HR is the answer.
Happy HR is a human resources information system – HRIS used to organise employment data. Our HRIS helps you streamline processes by making information easily accessible, whether you're organising your staff based on their wages or tracking their time off.
Rostering Made Easy With Happy HR
Our cloud-based software allows you to correctly store, track and update staff information. With a centralised system for all your employee data, you can improve communication within your organisation and experience enhanced productivity in the workplace.
Happy HR's employee rostering software allows administrators to operate efficiently and with ease thanks to our intuitive UX. And if you ever need help with our platform, we are always a phone call or message away. Our responsive support services are led by HR and IT professionals that can help you with any query you might have.
Why You Need Rostering Software for Your Business
Rostering requires real-time management on a cloud-based system, like Happy HR. Access the schedules of all your employees with the touch of a button thanks to our rostering software. Here's a few top reasons you should invest in Happy HR:
Easy To Use
Our intuitive interface makes it easy to use Happy HR on a daily basis. The rostering is seamlessly integrated into the platform and provides easy access to all the administrators simultaneously.
Save Time & Money
Since it's so easy to use and allows you to organise staff via wages and time off, you can easily organise rostering. It's the ideal solution for companies that use a mix of casual, part-time or full-time workers and need to see how they can best organise their schedules.
Improved Budgeting
If budget is important to you, Happy HR can help. The platform enables you to integrate rostered days off into your schedule, allowing you to pick available employees based on pay grades.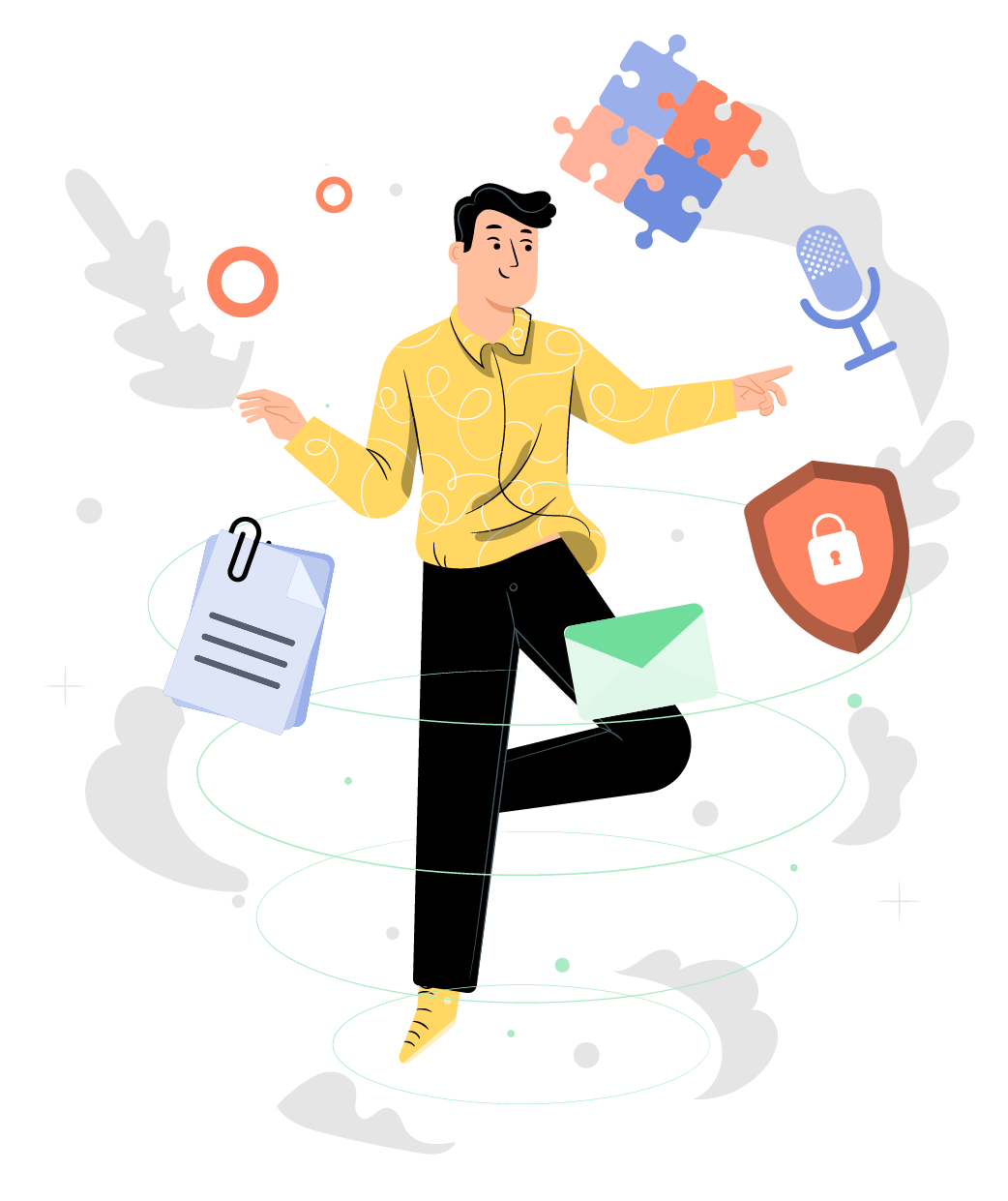 Features of our Rostering Software
While many stand-out features make Happy HR the ideal HRIS, here's why we know it will make the perfect employee rostering software for your business:
Recruitment & Candidate Management
Make the recruitment and onboarding process a breeze with new employees with one platform. Thanks to our integrations, you can view applications and organise documents in one place. For those looking for a fixed-fee recruitment service, ours come with a three-month guarantee.
HR Compliance
Customise all your employee's contracts thanks to our legally compliant templates for full-time, part-time, casual or contract employees. Choose from over 45+ policies to find one that suits your administration. And since our team consistently reviews these documents, you can be sure they are up to date.
Performance Management
Maximise performance with our software and keep track of employee performance thanks to our Fair Work compliant systems. From conducting appraisals to working on development plans, get notifications every time you need to complete a performance review.
Full integrations with popular payroll & operations software
To provide our users with the best HR management experience, we have integrated with popular payroll and operations software. Our integrations with the following services make the platform effective with all HR tasks managed in one place.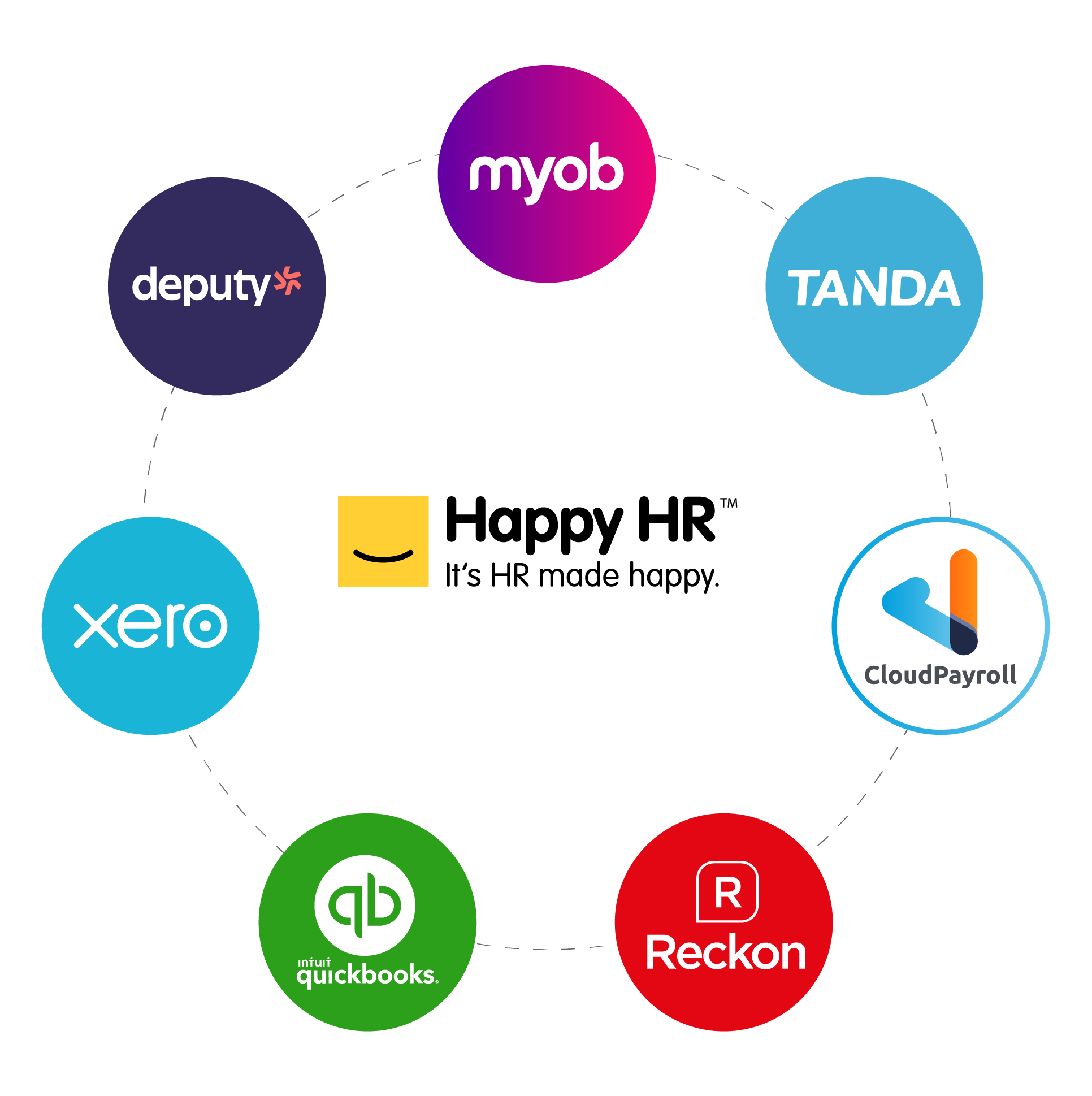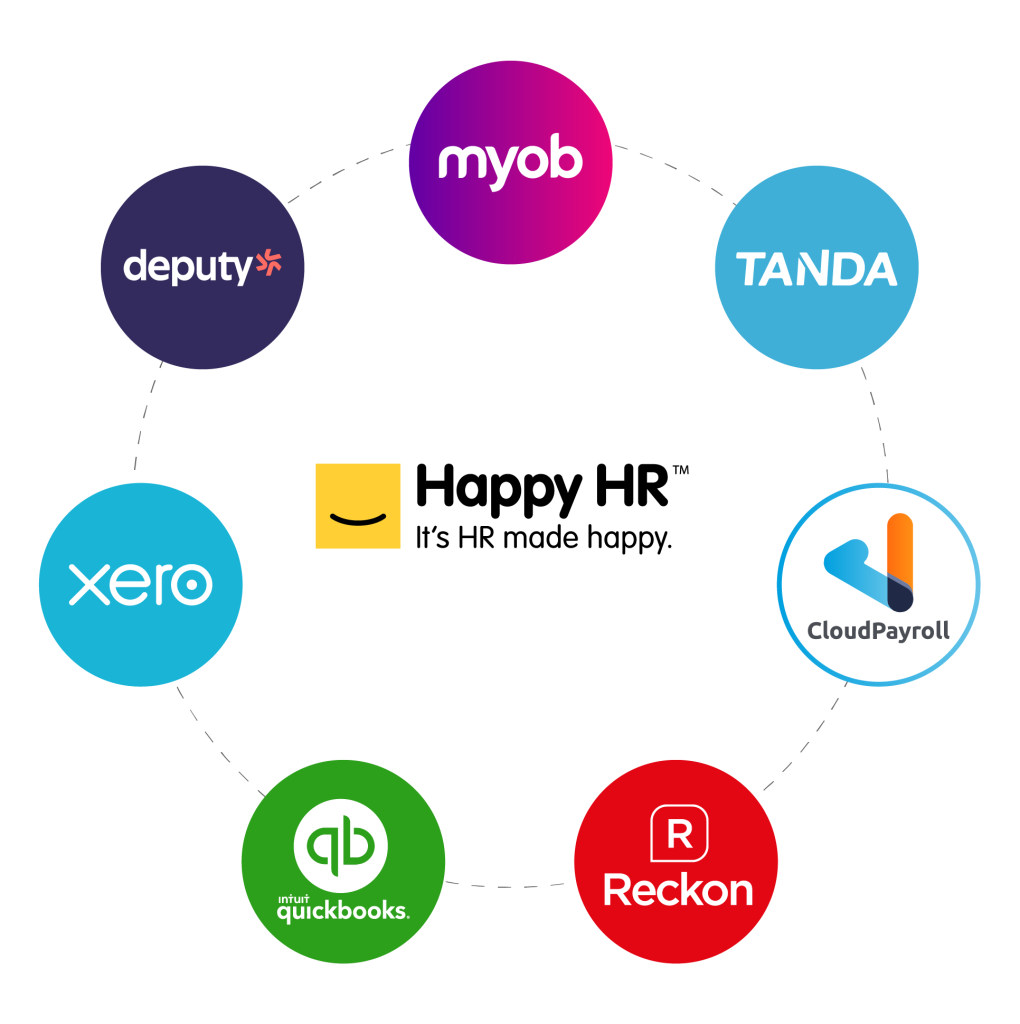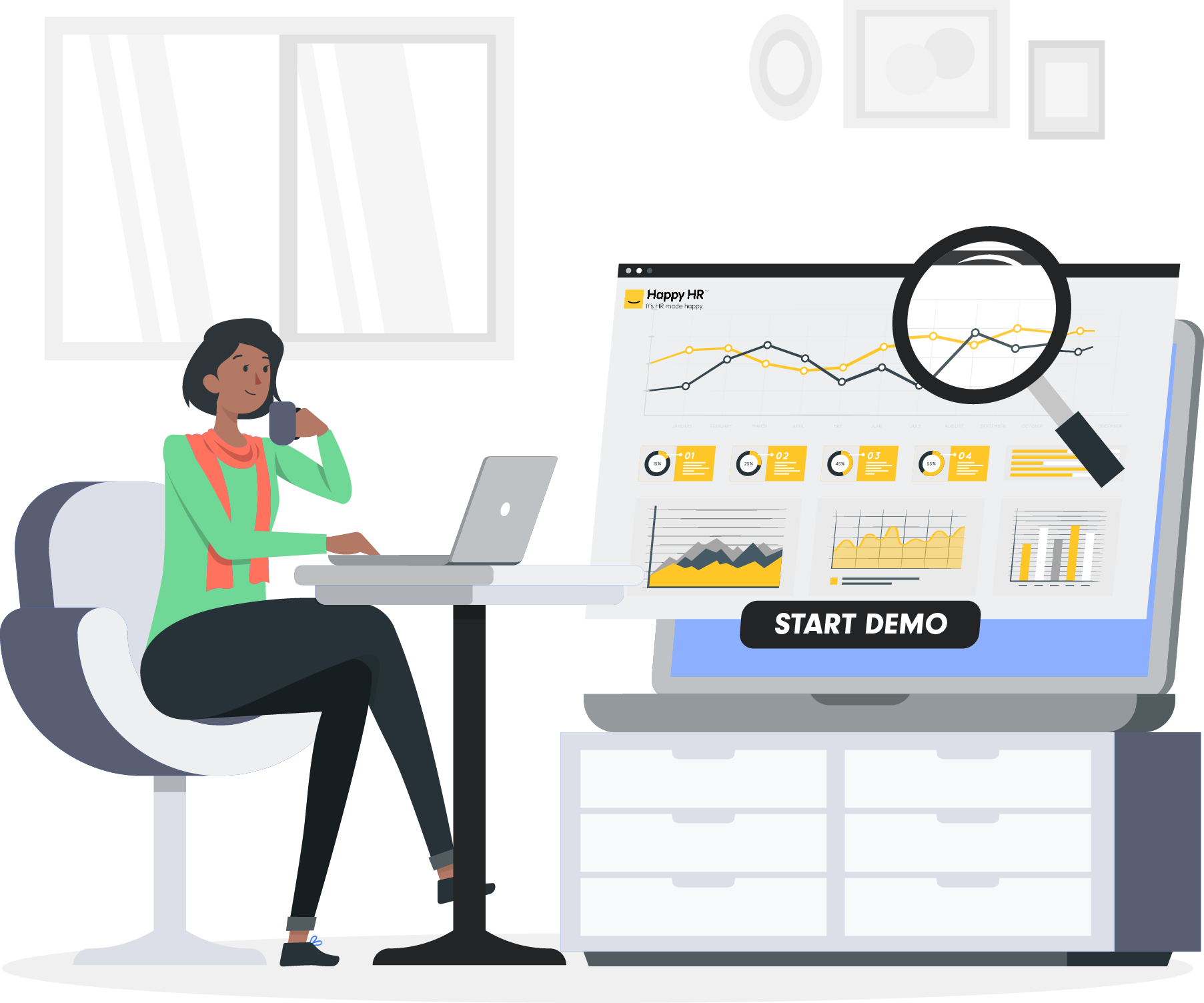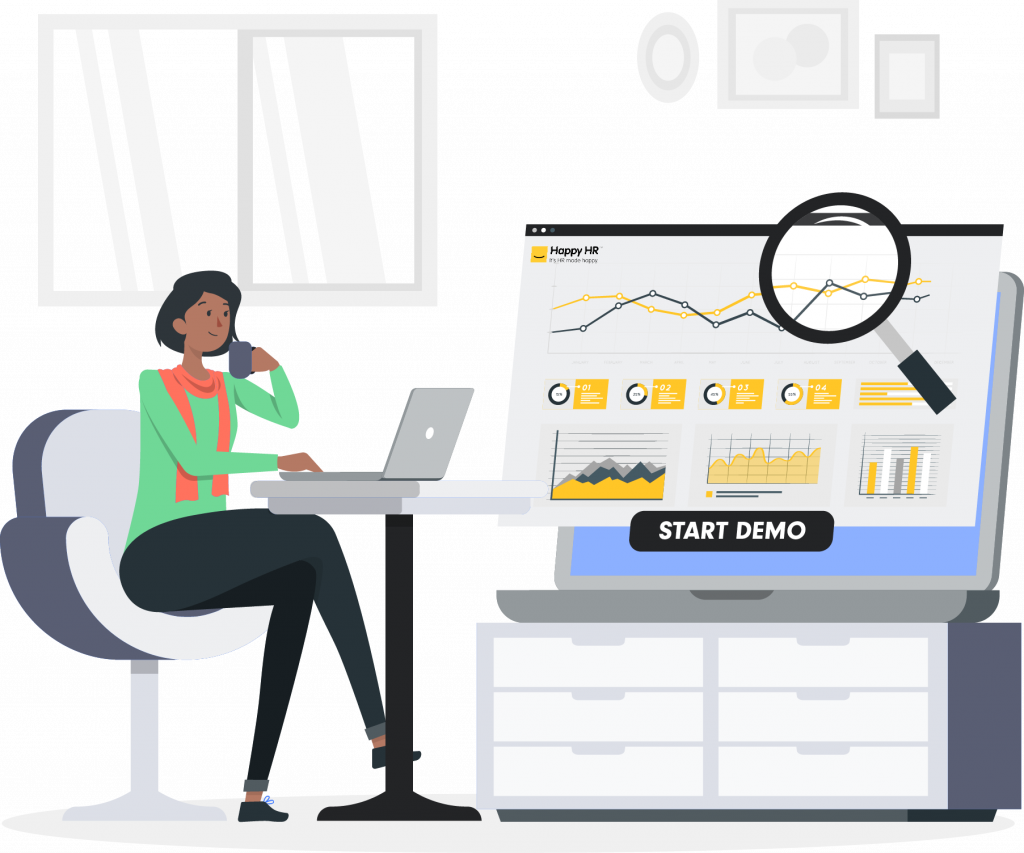 Easy Rostering Just A Few Clicks Away
Roster your team in the most efficient way possible with Happy HR. For more information on our pricing, please book a demo with our team today and make the most out of our dynamic HRIS.
Are you ready to get Happy HR?