Happy HR's CEO Christopher Smith is interviewed by Matt Reynolds @ Trench talk!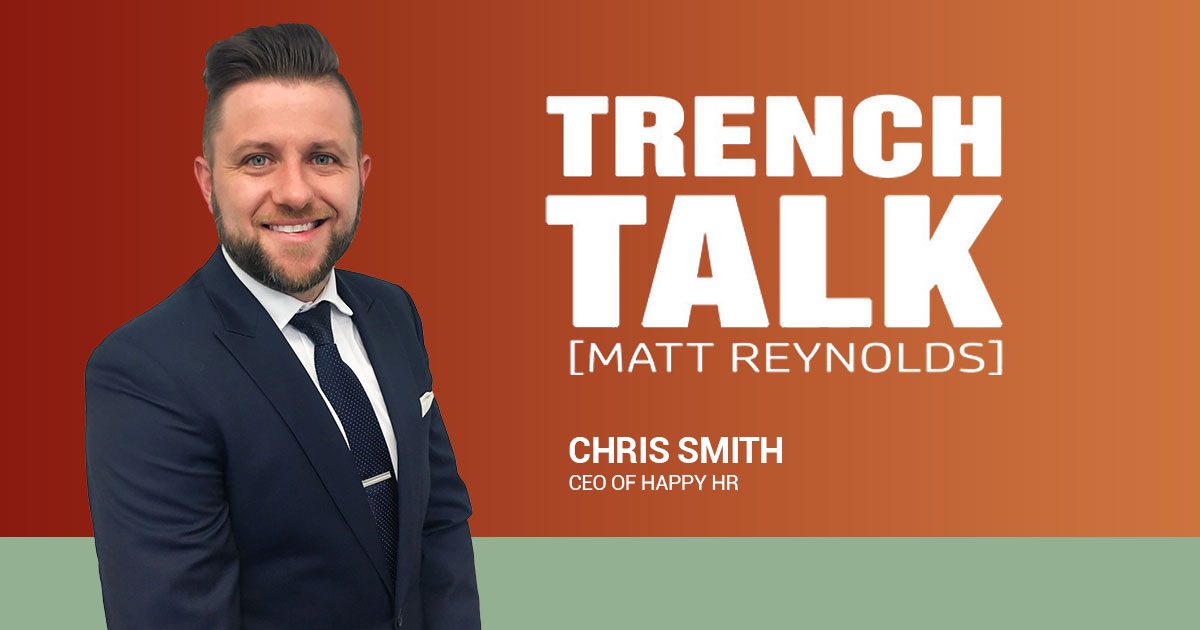 A big thank you to Matt Reynolds @trenchtalk podcast for the opportunity to talk about my life in "trenches" of the Yolk Agency and Happy HR businesses!
Chris Smith is the Founder of both Yolk Agency and Happy HR.
Chris left home at just 14 years old and started washing cars to make his rent payments. It wasn't long before the intuitive entrepreneur expanded his business in a somewhat unusual way – baking apple pies for his clients whose cars he was cleaning. He eventually found his way to a commercial kitchen and began training under some of the world's most well-known chefs.
In 2000, aged 23, Chris hung up his chef's apron to establish a lean manufacturing plant and gourmet food operation called Valley Produce Company. He was able to take the company from farmer's markets where he began to the world and established his brand's footprint globally selling Valley Produce Company product in England, Scandinavia, Dubai, Hong Kong, New Zealand, Japan, Canada and the USA.
He was also able to establish a well-respected Australian label that won numerous international and local awards.
In 2011 Chris resigned from the company to concentrate on developing Yolk Agency, a fully integrated management consultancy service after recognising a service gap in the market.
By 2014 Chris founded Happy HR, a software as a service product designed to be the world's most efficient and easy to use human resource and performance management platform.
During the chat, we covered:
both of Chris's businesses, including how he helps others in business succeed
decision making
what makes a world class chef
the strategies he used to grow his manufacturing business internationally
building teams, and
how he gets through large volumes of work every day.
Please listen to this awesome podcast on:
iTunes: https://itunes.apple.com/au/podcast/trench-talk-with-matt-reynolds/id1248461079
Spotify: https://open.spotify.com/show/5QDTDduC385hASjwV3hRHh?si=1FF3Cd6STK-F7flrkHQR5w
XRM: http://xrm.com.au/chris-smith/
Sound cloud: https://soundcloud.com/trenchtalk