MYOB is a business management platform that can be integrated easily with Happy HR.
With MYOB and Happy HR, you can manage aspects of your organisation like marketing, invoicing and quoting. Similar to Happy HR, MYOB is also a human resources information system – HRIS. These systems help you streamline your processes and make information accessible to those who need it immediately.
With HR management software like Happy HR, you can integrate all the necessary tools and smash out administrative tasks daily. So whether you're looking to automate tasks or locate employee information, an MYOB integration will make your work life easier!
With the MYOB integration, you can manage the following: 
Why You Need MYOB for Your Business
MYOB paired with Happy HR enables you to unleash the true potential of your business. Whether you're a startup or an enterprise, this integration will give you the insights you need in order to improve your organisation. Here's why we love MYOB with Happy HR:
Automate Expense Management
If you're a sole trader, skip the spreadsheet and try MYOB's easy to use interface to start documenting expenditure. By taking a picture of your receipt and uploading it to our cloud, MYOB will add all the important details and track GST for you.
Scale With Confidence
Automating administrative tasks can give you the time you need to grow your business. Track the progress of your company using metrics like KPIs and other important indicators.
Whether you're levelling up with real-time financial reports or collaborating
with your accountant or business partner, MYOB gives you a clear view of your business and how fast it's growing.
Simplify Your Payroll
Calculate your employees' taxes, leave and super based on their salaries with a click of a button. In addition, your employees can access these accounts to check their payslips.
Benefits of Connecting MYOB with Happy HR Software
Integrating MYOB and Happy HR can significantly enhance the efficiency and effectiveness of payroll processing, banking and superannuation, and leave application and approval. Here are some of the top benefits:
Payroll Information
Happy HR tracks each employee's working hours, overtime, bonuses, and deductions and then sends this information to MYOB, which calculates the payroll accurately. Tracking this eliminates any potential errors that may occur due to manual input and provides a streamlined and efficient payroll process.
Our platform also makes it easier to comply with tax obligations. MYOB's built-in tax tables help to compute tax deductions accurately, while Happy HR's compliance features ensure that all payroll practices adhere to local labour laws.

Banking and Superannuation
MYOB makes banking transactions and superannuation contributions more secure and efficient. MYOB facilitates the payment of wages directly to employees' bank accounts, while Happy HR sends all necessary superannuation information to MYOB, including contribution amounts for each employee.
Leave Application and Approval
Our integration simplifies the leave application and approval process. With Happy HR, employees can apply for leave directly through the platform, and managers can approve or reject these applications in real time.
Once the leave is approved, Happy HR sends this information to MYOB, automatically adjusting the payroll and leave accruals accordingly. Our process ensures that employees are paid correctly during their leave and that their leave balances are accurate.
For more information on this integration and our pricing, set up a demo with Happy HR today and see how your organisation can benefit from our cloud-based software.
How to
integrate

Happy HR
with MYOB HRIS
Go to the settings page and go to API integrations page in your happy HR account.
Click on the integrate with MYOB AR essentials button.
Your Happy HR and MYOB AR essentials will now be integrated – you can now enjoy MYOB AR and essentials HRIS!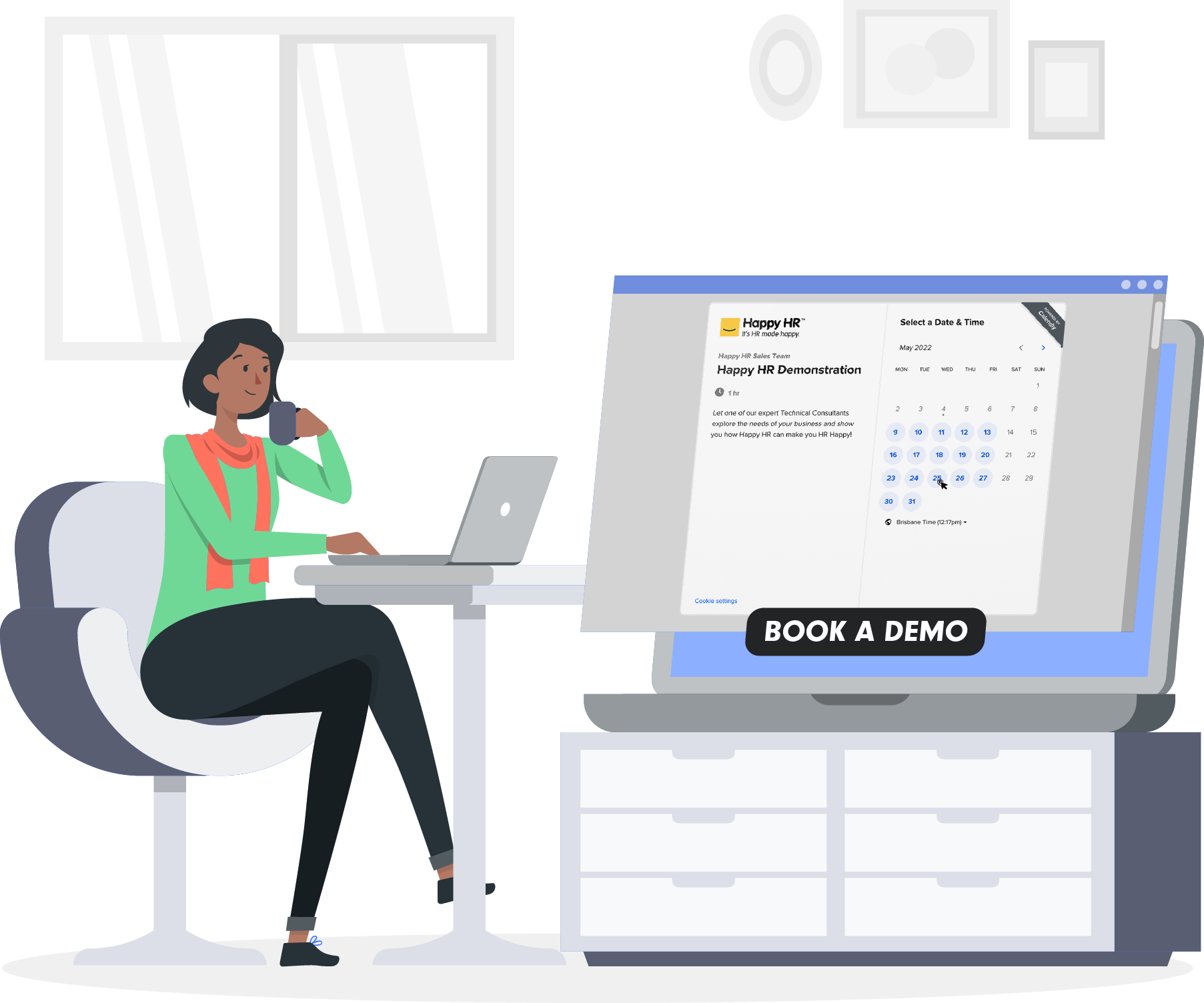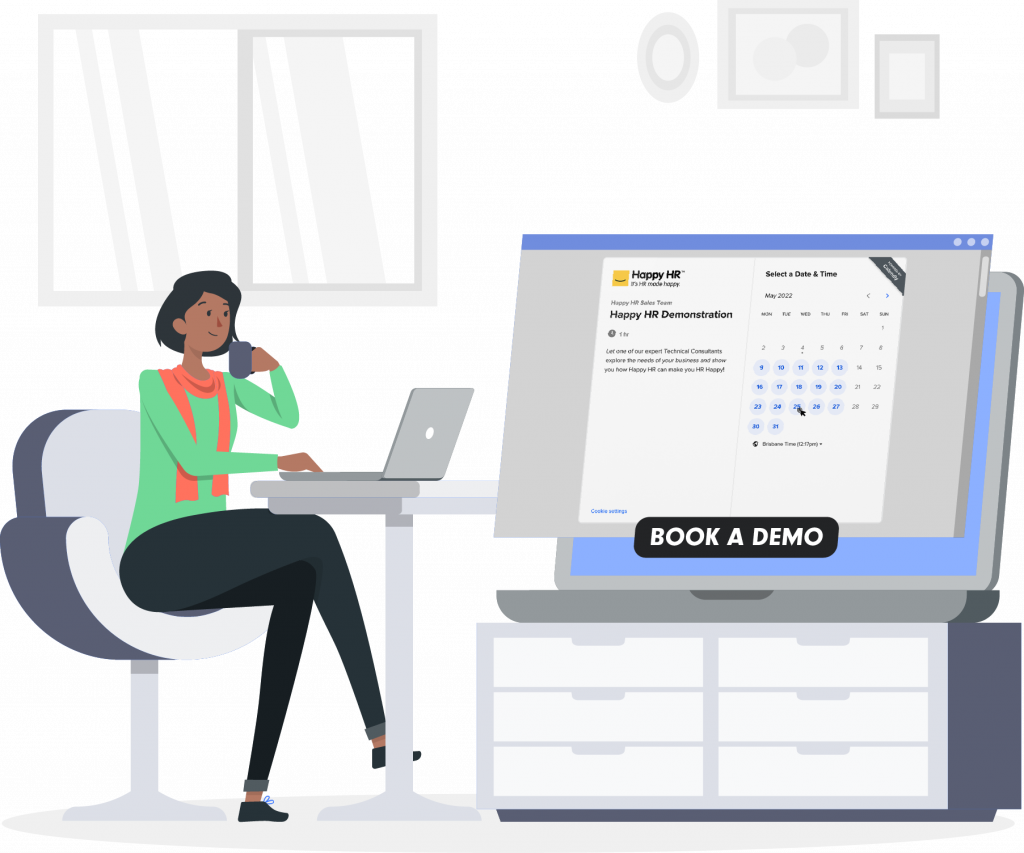 Do you have any questions about MYOB's integration with Happy HR?
Reach out to us today for a free demo of our software so we can take you through our integration with MYOB.